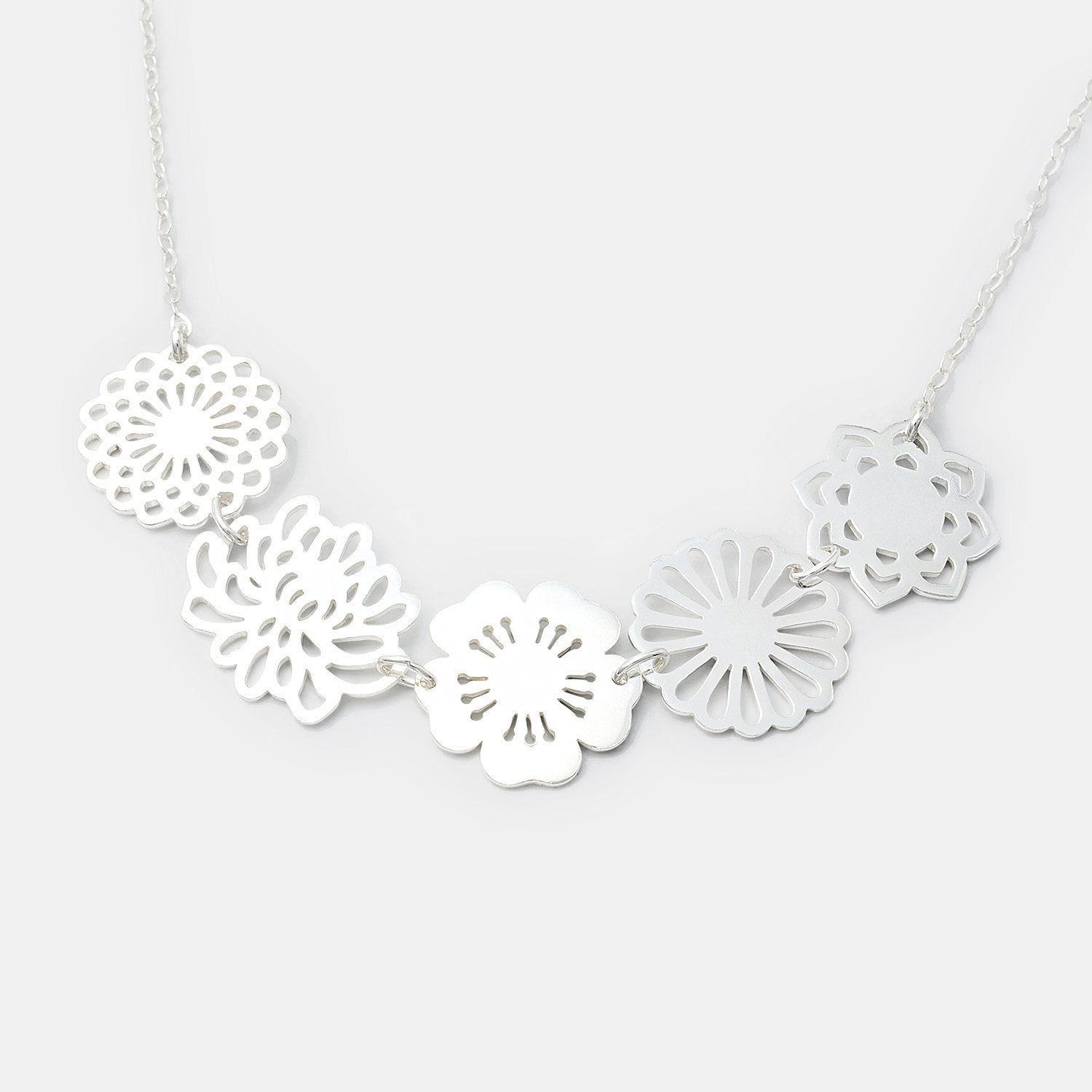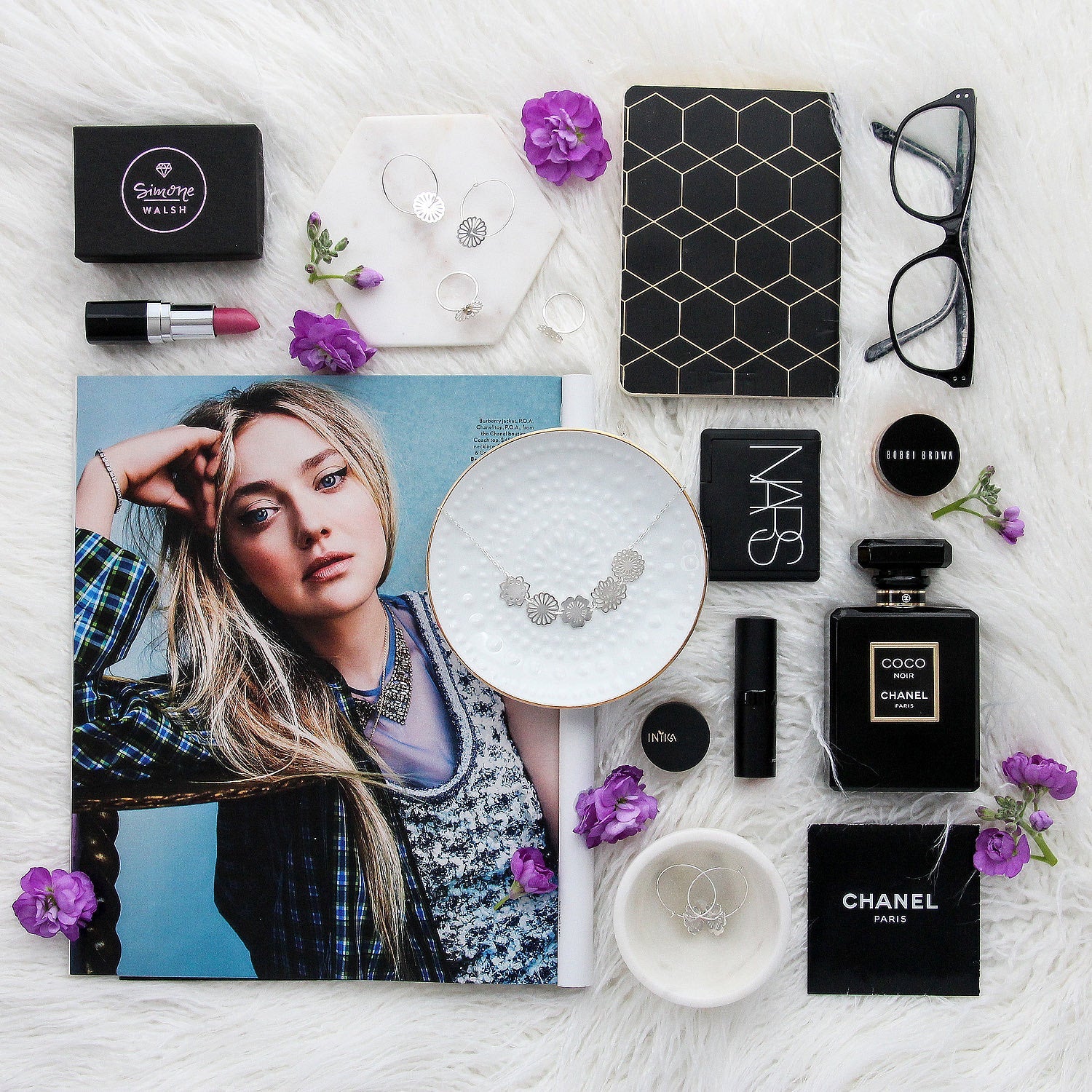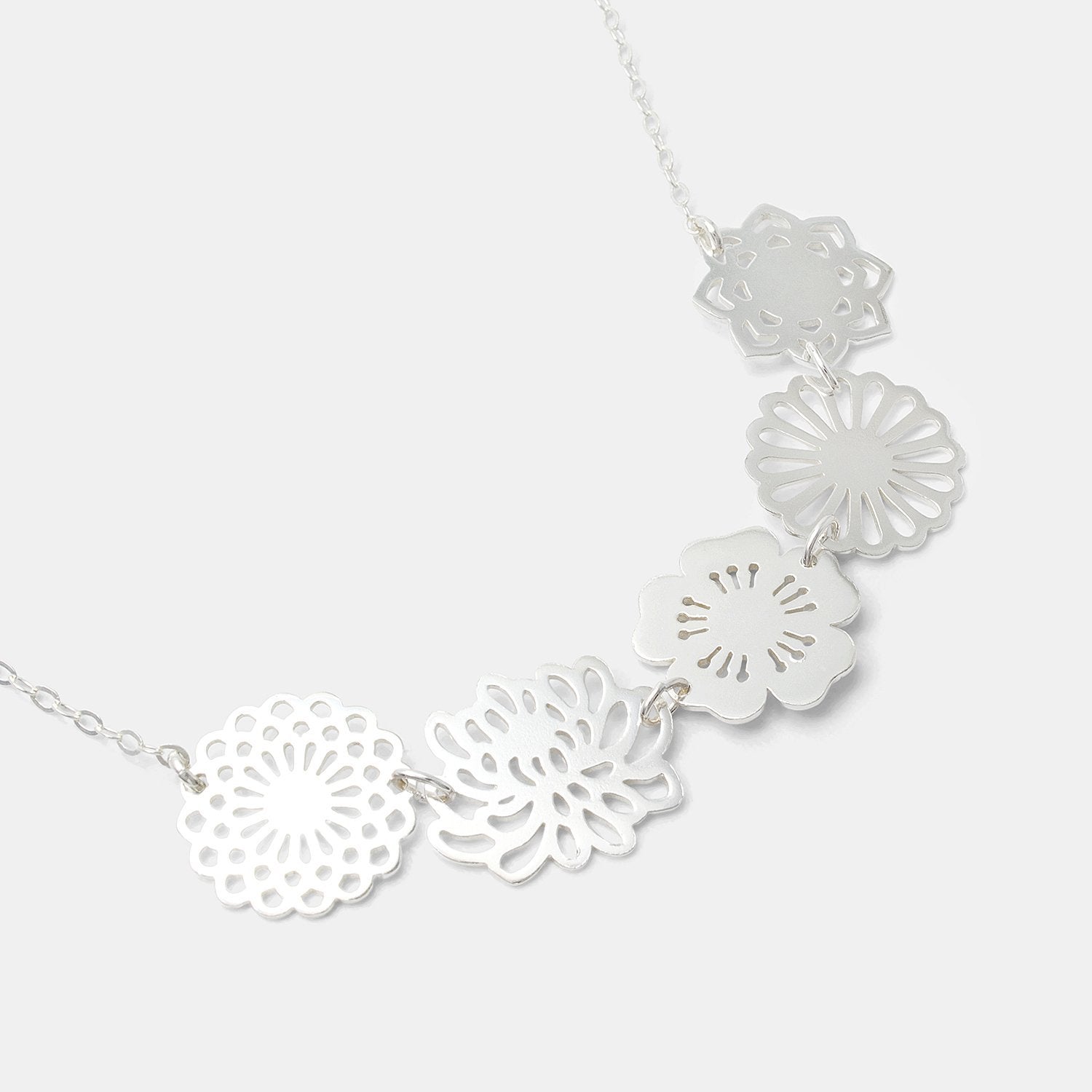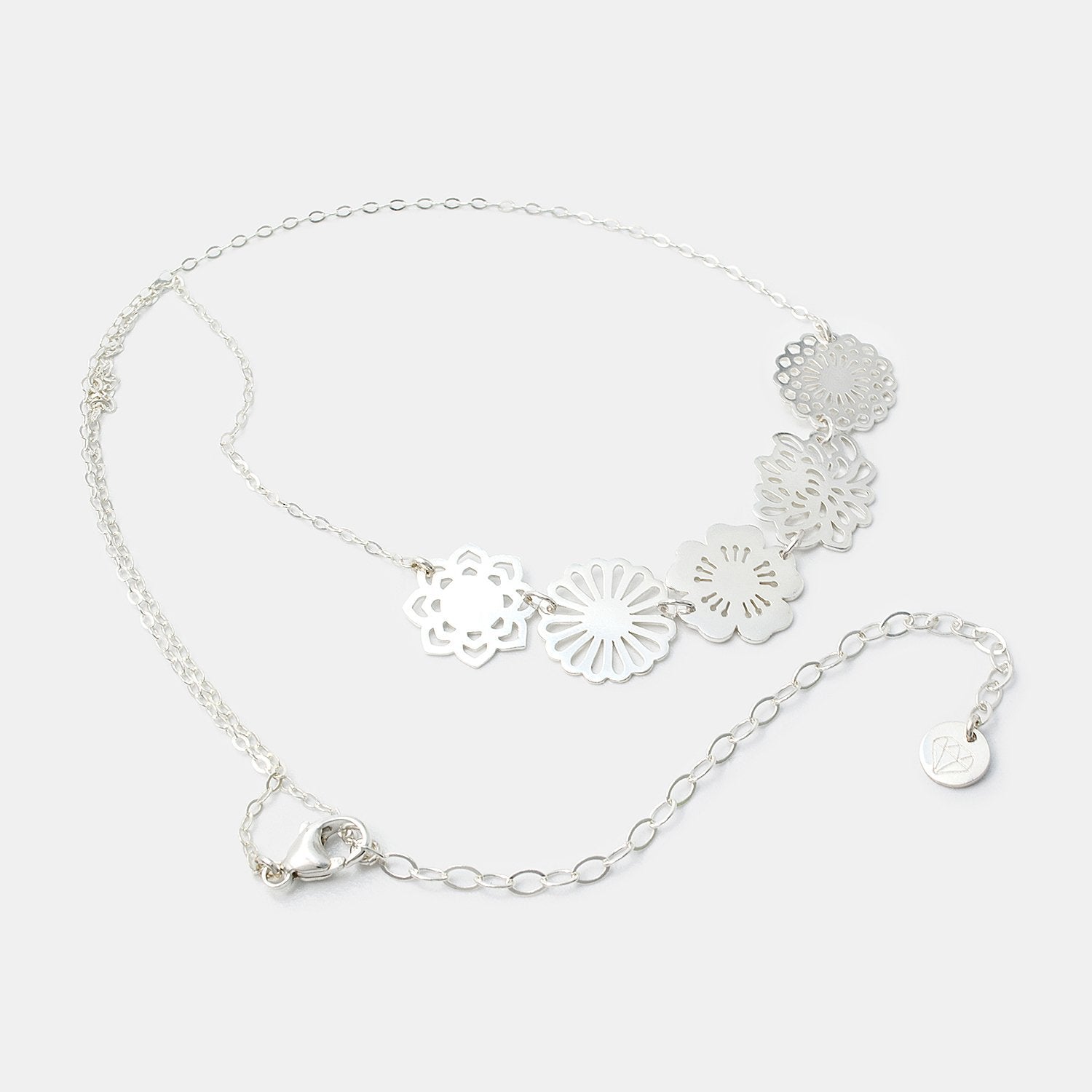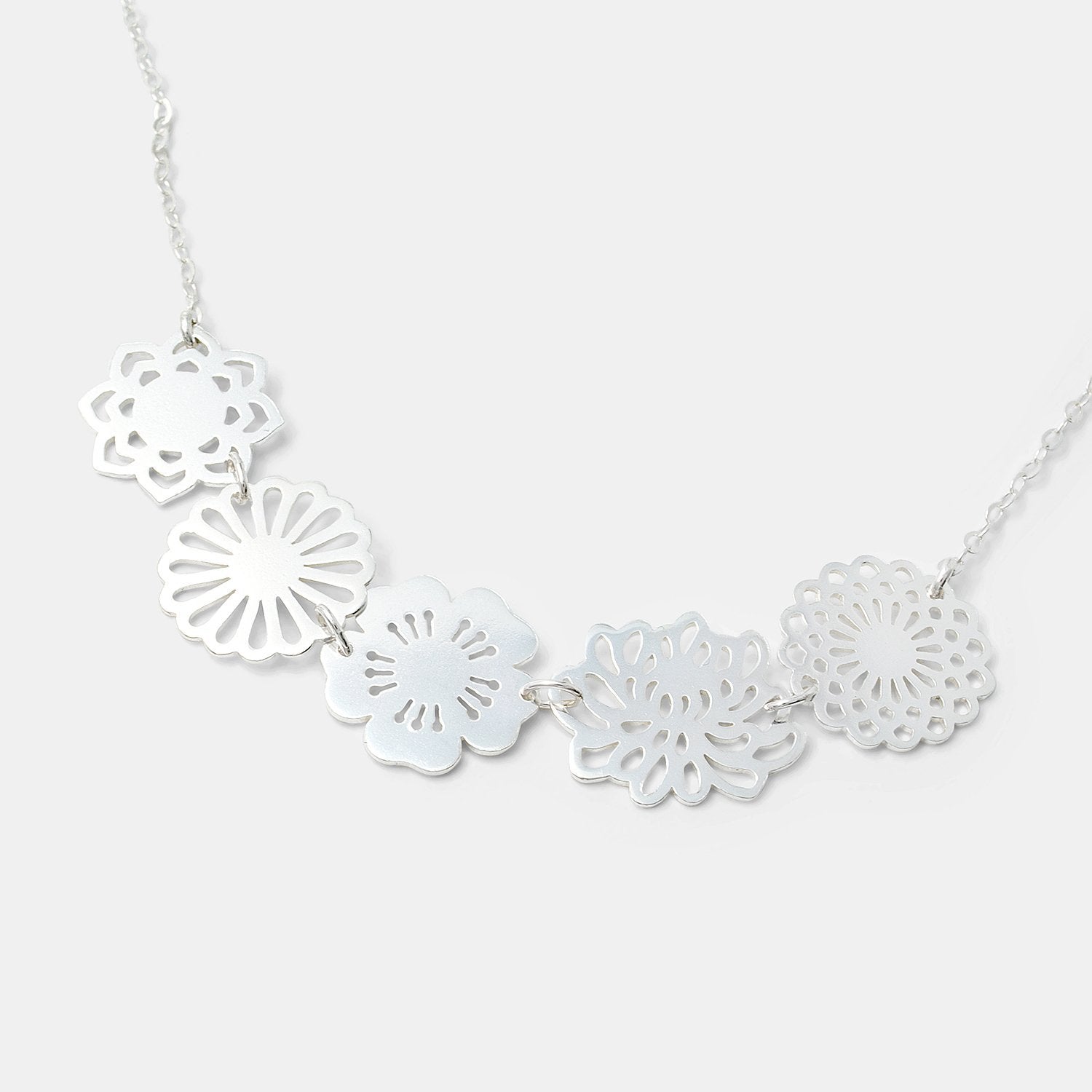 Bouquet Silver Necklace
Our original beautiful bouquet necklace in sterling silver will make a delightful statement whenever you wear it. It features a bouquet of flowers clustered at the centre of the chain: a daisy, dahlia, lotus, chrysanthemum and cherry blossom.
---
Sale price

$142
Regular price

$148
(/)
This sparkling sterling silver chain necklace features five different flowers in a row at the centre of the the chain to form a bouquet. The necklace is a beautiful statement piece which will add interest and delight to any outfit.

Feeling matchy? Pair it with any of the matching pieces from our bouquet jewellery range, featuring earrings, rings and bracelets.

The bouquet necklace also makes a gorgeous gift. The flowers each represent:

Cherry blossom: renewal and the beautiful but fleeting nature of life
Lotus: eloquence, along with enlightenment and eternity
Dahlia: grace under pressure, drawing on inner strength and following a unique path
Daisy: innocence, new beginnings and true love
Chrysanthemum: lasting friendship, loyalty and cheerfulness, plus they have a close association with motherhood

The flower pendants on this necklace are each made in shiny sterling silver. The flowers featured are a daisy, dahlia, lotus, chrysanthemum and cherry blossom.

The pendants are at the centre of a delicate but sturdy sparkly sterling silver chain, which is secured in place with a sterling silver clasp. The adjustable chain can be worn at different lengths and you can add even more length with one of our silver chain extenders. The chain is completed with our logo tag at the end, which acts as a counterweight.

Also see the other lovely chain necklaces and silver necklaces in our Australian jewellery shop. Also check out our full silver jewellery collection.

What you'll love

Quality sterling silver necklace, including the clasp and pendants.
Unique necklace design with a cluster of beautiful flowers.
Great to add some unique sparkle and interest to a casual outfit, but works when dressing up too.
Versatile adjustable necklace length.
Feeling matchy? Pair it with earrings, a bracelet or cocktail ring from our bouquet range.

Just the facts:

Materials:

Sterling silver.

Charm size:

Each of the 5 flowers is approximately 1.55cm (0.6") in diameter.

Necklace length:

Adjustable from 45cm (18") to 55cm (21.5"). Add a further 15cm (6") with our silver chain extender.
Most of our necklaces are adjustable. We generally use standard (or princess) length (45cm / 18"), with an additional 10cm chain go up to matinee length (55cm / 22"). This is the most popular length for necklaces.

Some necklaces have different lengths and a small number are not adjustable. Be sure to read the product details and also the materials & sizes section for details about this particular necklace.

Our necklace lengths chart will give an idea of how lengths will sit. Everyone is different, so we recommend measuring an existing necklace or using string to see what will suit you.

Important: measurements are the total length (circumference). Also remember that pendants will sit lower: check our sizes & materials section for full size details.

Still not sure? Check out our handy necklace length & style guide.
You'll get FREE shipping in Australia for orders $50+. Learn more.
Purchases come with our money back happiness guarantee*.
Each piece of jewellery is packaged in an eco-friendly gift box including care instructions.
You can send orders directly to a gift recipient with a personal note. You can opt to add a gift card or add gift wrapping at checkout. Invoices are never included.
Checkout is secure and you can pay using a credit card, Paypal, Shop Pay, Afterpay (in Australia), Google or Apple payments.

* Terms and exclusions apply (particularly for rings). Full details.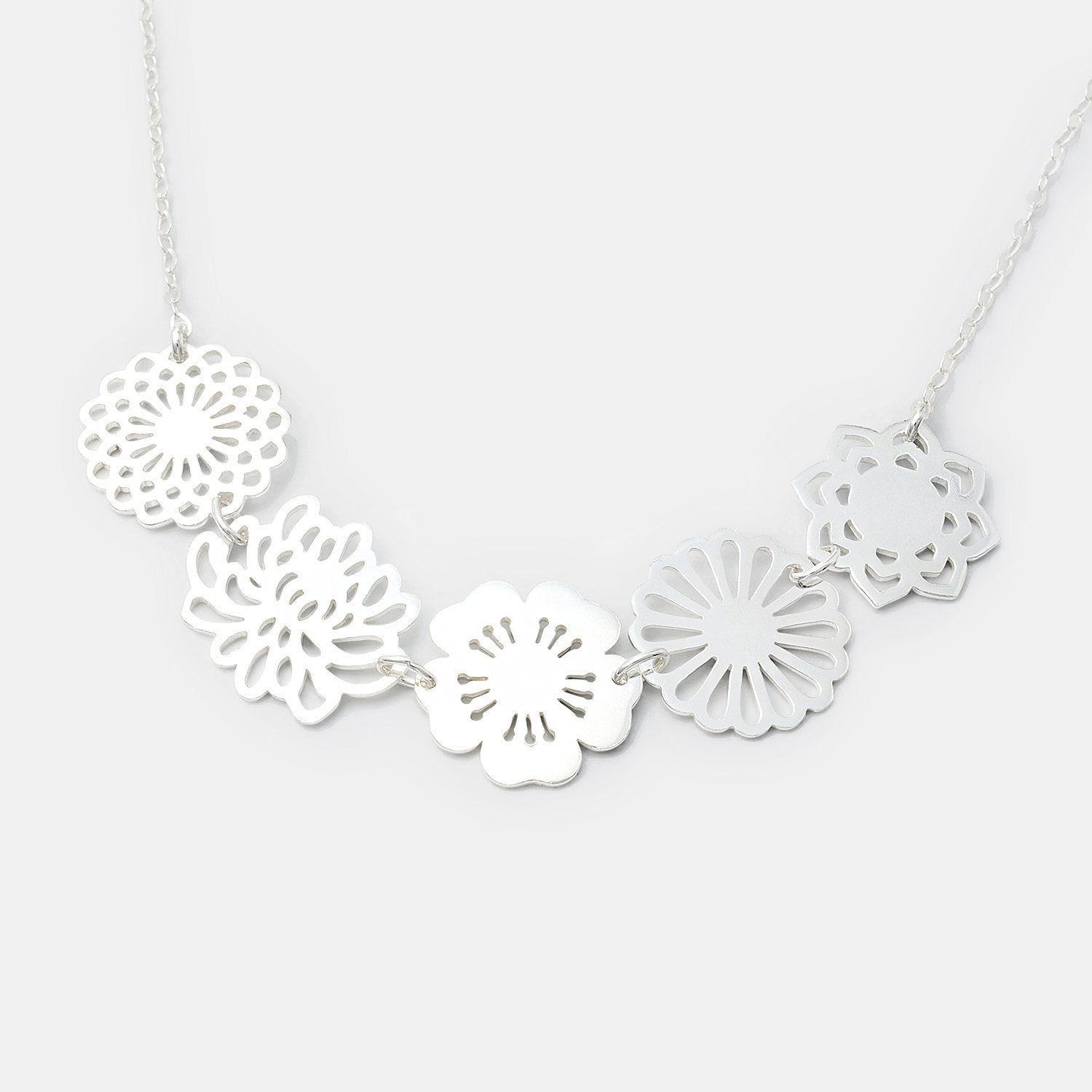 Bouquet Silver Necklace
Sale price

$142
Regular price

$148
Choose options